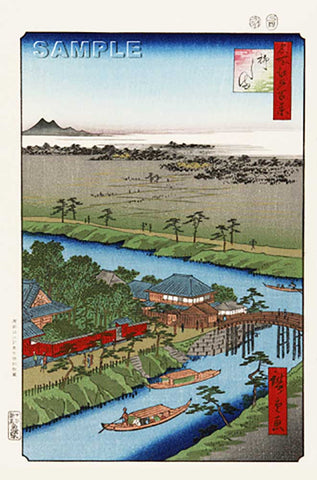 Utagawa Hiroshige - No.032 The Yanagishima - One hundred Famous View of Edo - Free Shipping
Artist
Utagawa Hiroshige (1797~1858)
No.032 The Yanagishima
Japanese Woodblock Print  Name 
From One Hundred Famous Views of Edo
One Hundred Famous Views of Edo  is a series of ukiyo-e prints
begun and largely completed by Utagawa Hiroshige (1797~1858)
Approx Image Size 
Height 34.00 cm  x Width 22.00 cm
(H 13.39" x  W 8.661")
Date 
These 120 woodblock prints (One hundred Famous View of Edo)
were reproduced in 1998-2004
by Tokyo traditional woodcut craft Association
for Two hundred anniversary of Utagawa Hiroshige birth.
Condition  
Only perfect condition one. 
Never rolled up.
Never framed, kept in professional condition.
Once in a while, we will be out of stock this print due to
keavy demand and slao procee of production team.
We recommend you to check the availability of this print
before place your order.
Once we are out of stock, it sometime takes few month to get for you.
Color 
Refer to our Pictures
The color of the actual Woodblock Print may be slightly different
from the images on our pictures.
It is impossible to show the actual color of
these fine art of woodblock prints and texture of Washi Paper.
---
We Also Recommend
---